The front of Bethel Healing Home in Topeka, Kansas
Bethel Healing Home
In 1898, a "Divine Healing Home" was established on the corner of 4th and Jackson Streets, in Topeka, Kansas, which Parham called Bethel. The purpose of Bethel Healing Home was to provide home like comforts for those who were seeking healing, while prayer was made for their spiritual needs as well as their bodies.
At Bethel Healing Home, special studies were given to ministers, and evangelists, and many workers were instructed in Bible truths, and trained for gospel work. They taught salvation, healing, sanctification, the second coming of Christ, and the baptism of the Holy Spirit, although they had not yet recieved the evidence of speaking in other tongues. Also they practiced water baptism by immersion, and partook of the Lord's Supper.
Concerning the last days of the Healing Home, Charles Parham wrote, "Deciding to know more fully the latest truths restored by latter day movements, I left my work in charge of two holiness preachers, and visited various movements, such as Dowie's work who was then in Chicago; the Eye Opener work of the same city; Malone's work in Cleveland, Dr. Simpson's work in Nyack, New York, Sanford's 'Holy Ghost and Us' work at Shiloh, Maine, and many others. I returned home fully convinced that while many had obtained a real experience in sancification, and the anointing that abideth, there still remained a great outpouring of the power, for Christians who were to close out this age. Through underhanded scheming, and falsehoods, the ministers I left in charge of my work had not only taken my building, but also most of my congregation. My friends urged me to claim my own, but the Word says, 'We have heard that it hath been said, An eye for an eye, and a tooth for a tooth: but I say unto you, that ye resist not evil; but whosoever smite thee on thy right cheek, turn to him the other also, and if any man will sue thee at the law, and take away thy coat, let him have thy cloak also'. To practice His Word was our highest aim."
Side view of Charles Parham's Bethel Healing Home in Topeka, KS.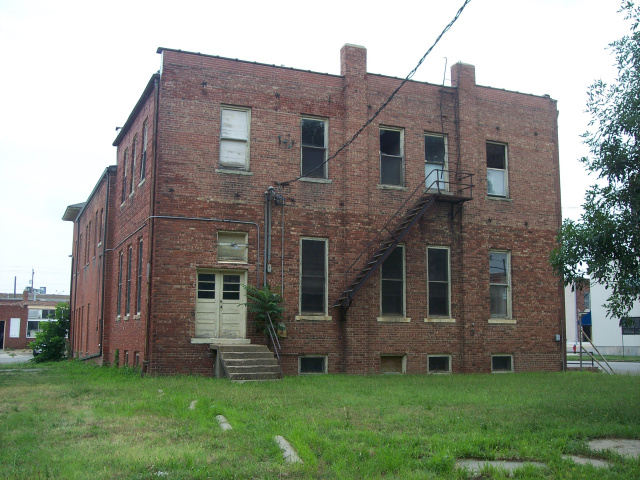 Rear view of Bethel Healing Home
Front view of Bethel Healing Home in Topeka, KS.