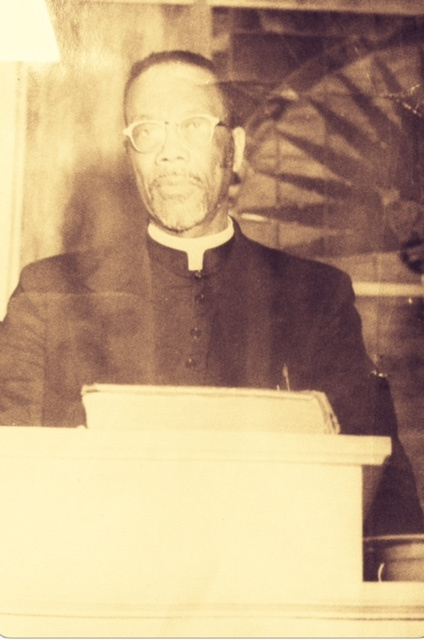 Bishop Randolph A. Carr
Founder of Church of God in Christ Jesus Apostolic, Inc.
1895 - 1970

Bishop R A Carr was born July 28,1895 in Nevis, West Indies, he was the son to the late Thomas Carr and Matilda Huggins.

After the death of Randolph's father, he was reared by his grandfather who instilled in him a love and knowledge of God's Word. Bishop Carr was educated in the schools of Nevis, and later furthered his education in the United States.

Bishop Carr came to the United States in 1912 and lived in New York. He was baptized in the name of the Lord Jesus Christ on a cold day, February 5th in the Harlem River, five below zero. He was a member of the King's Chapel Church, the pastor was the late Mother Lindore Lightfoot.

In 1917 the visionary of his ministry began Evangelizing Pastoring and Teaching ever since. Returning back to Baltimore, Maryland in 1934 he became the Pastor of (5) a mother, her daughter, her son in law and (2) grandchildren. The request of him coming to Pastor was made by the late Bishop Charles H. Mason the founder of the COGIC.

Pastor Carr labored endlessly and tirelessly, and brought church from its infancy in a storefront on Mount Street; to a tent at Lafayette and Gilmore; to a modest building at 219 Mount Street; to a larger sanctuary at Fulton and Riggs Avenues, to its present edifice. (700 Popular Grove Street Baltimore, Maryland 21216) The world renowned Rehoboth Church of God in Christ Jesus Apostolic.

In January 1946 the then Elder Carr was made chairman of the board of bishops for the newly organization The Churches of God in Christ Jesus Apostolic Inc. Later that year he became the first Presiding Bishop.

In 1958 the organization gained over (100) churches in United States and abroad. The Baltimore's Afro-American wrote an article that same year (1958) "STOREFRONT CHURCH IS NOW WORLDWIDE ORGANIZATION" written by Ms. Elizabeth M. Oliver. Bishop Carr became a father indeed to many namely Bishop Monroe Saunders, Sr.

October 26,1970 Bishop R A Carr went to Rest In Jesus. Rehoboth Church lost its Pastor and The Church of God in Christ Jesus Apostolic, Inc. lost their Bishop.

Bishop Carr was eulogized by his successor the late Bishop William S. Barnes, Sr. who also became 2nd Pastor of Rehoboth Church and the 2nd Presiding of COGICJA.

Bishop Barnes remarks were "Bishop Carr was a Man of God who cared for the soul of the people and the people of God, so therefore Bishop Carr has fought a good fight, finished his course, and kept the faith.

Rehoboth today celebrate its 80th year and the Church of God in Christ Jesus Apostolic, Inc. is celebrating its 70th year. "TO GOD BE THE GLORY!"