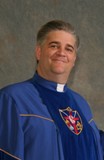 Dr. Bernie L. Wade
International Circle of Faith
1963 ~ Present
Pastor, teacher, preacher, mentor, author, songwriter, entrepreneur, conference speaker and friend, Dr. Bernie L. Wade Sr. was born on June 29, 1963 in Lakewood, Ohio. Bishop Wade was born into a family of preachers. His father was a minister in both the PAJC and the UPCI as well as instrumental in the establishing of a couple of other organizations. His Grandfather was the late Bishop George Wade (PAW and PAJC), his uncle was the late Bishop C.B. Gillespie who (along with the Wade's) pastor Bishop Ray Cornell re-chartered the PAJC after the UPCI merger.
Bishop Wade was baptized at Grace Apostolic Church in Elyria, Ohio by his father, Bishop Sanford Wade, November 4, 1973 at Grace Apostolic Church, Pastor Paul Kearney's church. He received the Holy Ghost at his home church Apostolic Faith Church of God, Columbia Station, Ohio on November 5, 2007. From a very young age, he was devoted to the gospel and in 1979; Bishop Wade began fulfilling his call to the ministry as a youth minister.
Now, over 25 years later he serves the International Circle of Faith (ICOF) as Presiding Bishop. ICOF is a 21st Century movement of God, pursuing the restoration of the apostolic message, authority, power, and anointing around the globe. This global, multiracial, multi-cultral, nondenominational fellowship has 40,000 active ministers. Using some unique concepts, staffed with a team of talented ministers, and focusing on tearing down man-made walls of division, ICOF is bringing real unity to the body of Christ. ICOF is now focused on the more than 100 Bible Colleges, Universities and Seminaries under International Circle of Faith Colleges and Seminaries and in partnership with Global Evangelical Christian college (GECC). Today ICOF has a presence in over 100 countries and key leadership in over 50 countries. In addition to an exhaustive speaking schedule, Bishop Wade contributes to a number of major international conferences. He is also a popular guest speaker at many conferences, crusades, camp meetings, special meetings, etc.
Dr. Wade holds 4 doctorates; theology, divinity, Non-profit Management, and pastoral counseling. He is the visionary behind the vast network of colleges, universities, and Bible colleges, that make up the accredited non-traditional programs offered through International Circle of Faith Colleges and Seminaries. Dr. Wade serves this vast network as Chancellor of the Colleges. Because of his commitment to quality education he serves on the board of the Association of Christian Universities.