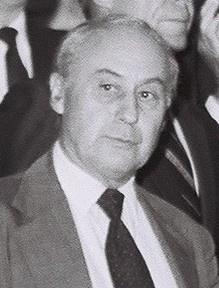 Rev. Verlon Sims
Apostolic Ministers Fellowship
1922 ~ 1991
Verlon Sims was born on January 1, 1922 in Sage, Arkansas, to Clarence David (Doc) and Emma Sims. Around 1930, the Sims family moved to Batesville, Arkansas, of which, Verlon made his home town. Verlon has three siblings, Faye, Gene, and Maxine. Verlon and his wife, Wanda had one child they named Ann. As a young man he appeared as one of the original Three Mesquiteers, in the Western TV Series. He also appeared in western movies with, Roy Rogers. During his movie career he was primarily used as a stand-in. His stage name was "Stony Brook". Verlon was a unique individual who bore distinct originality. He was a slow walking and slow talking man. He was a bull rider in the late 1940's and early 1950's. He had several talents of which he learned from his Cowboy days! He was a master with the whip and lasso! He could hit a crawling bug on the ground with a flick of the wrist. He could also lasso just about anything with pinpoint accuracy.
Sometimes, Verlon worked with his brother (Gene) in Batesville as a used car salesman. While living in Denison, Texas, he was converted to the Apostolic faith. He was baptized in the name of Jesus' Christ and filled with the Holy Ghost. Knowing that he had the world in his hands, Verlon had a contract to star in the movies as the Lone Ranger, but turned down the part after he was saved. In 1952 he met Elder C.W. Shew, and began attending the Fort Worth Apostolic Church, which Elder Shew pastored. Shortly after his conversion his wife (Wanda) chose not to remain married to him, based on his new found experience with God. Verlon lived the rest of his life single, but not without notoriety.
Verlon accepted the call to preach the Gospel, and successfully evangelized throughout the course of his ministerial career. He joined ranks with the Apostolic Ministers Fellowship. He was a gentle spirited individual, who carried no ax to grind with anyone. His dry pulpit humor made him, both, interesting and effective. Just two years before he (Sims) passed away, he called his old friend Roy Rogers, and was invited to come to his ranch to visit. After a battle with colon cancer, at the age of 69, Brother Sims went home to be with the Lord on September 2, 1991. He is buried at Oak Lawn Cemetary in Batesville, Arkansas. Audio Recordings of Verlon Sims are available in our audio library.