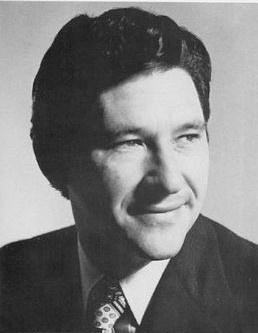 Mark David Hanby
United Pentecostal Church International
Few voices have so powerfully and permanently impacted the modern Apostolic/Pentecostal movement. A son of the parsonage, Mark David Hanby was the product of the home of one of the movements most influential leaders, Stanley R. Hanby and his wife - Frances.
His growth and development was exquisitely impacted by the leadership of his father, and the spiritual sensiitivity of his mother. His prodigious gifting became evident, while he was yet a teenager. He was exposed to extraordinary ministers and the avant-garde in leadership. His father was a man of vision and action, planting many churches in Ohio, then in the Dakota's and Upstate New York. His father served the UPCI, as Home Missions Director.

Mark married Gloria Pyles of Tulsa, OK, pastored by C P Williams, and later, by his son....John David (who married Mark Hanby's sister-Faith) First Apostolic Church of Tulsa made a significant impact on the developing young minister.

He was blessed to be mentored by - and assisted J T Pugh at First Pentecostal Church of Port Arthur, Texas. Brother Pugh was arguably the greatest pulpiteer, at the time - within the denomination. At this juncture, Mark Hanby (though only 23 ) was elected pastor of a great congregation in Fort Worth, Texas. Truth Church in Ft Worth - was a place of great influence nationally during this era.

He led this church to a place of great prominence within the UPCI. In every way this congregation led the UPCI into a new era of growth and energy. The Pulpit ministry of Mark Hanby touched every strata of the movement. He was - beyond a doubt - a preacher without peer. His passionate and poetic ministry gift lifted a generation of Apostolics, like few before--or since. Dr Mark Handby resides now in Denton, Texas.
More Bio information:

Dr. Mark Hanby is the son of pioneering ministry parents and graduated Valedictorian of his high school in New York, while accumulating college credits from Columbia University through the New York State Advanced Student Regents Program. At age 18 he made the decision to continue in ministry. In 1966, he accepted the pastoral responsibility of a small congregation in Fort Worth, Texas, which became Truth Church, one of the first fully integrated "mega-churches" of this era, where he served until 1986. Located on more than 90 acres, Truth Church included a 3,000 plus seat auditorium, multi-ministry facilities, 40 townhouses, and a joint ventured 790-unit apartment complex. With a focus on world missions, Truth Church became a foundation for outreach, supporting 110 ministry families worldwide. Pastor Hanby's personal interest in world missions includes ministering in 60 countries on six continents. Dr. Hanby also initiated and developed Wide World Ministries College of Spiritual Concepts and Music Ministry, recruiting students from across the country. He also founded the Wide World of Truth television program, one of the first church congregation-type programs on the Christian Broadcasting Network, which aired weekly in more than 1,000 cities. After resigning his pastorate in 1986, Dr. Hanby launched The Mark Hanby Ministries, from which he has preached around the world, independent of denominational boundaries. Dr. Hanby speaks at approximately 30 engagements per year, with audiences up to 25,000. Dr. Hanby is accepted as a "father in ministry" to more than 70 "Master Builder Sons" and gives oversight and covering to many others. He is a leading participant in key Christian national and international conferences. Dr. Hanby has seven published books, numerous ministerial audio and video tape series, and an estimated 3,500 audio tapes in archives at Beyth Shan Foundational Ministries. During his itinerate and early pastoral work, Dr. Hanby earned a double Masters Degree in Ministry and Theology from American Bible School, Chicago, Illinois, and was awarded an honorary Doctorates in Ministry and Theology, as well as Masters Degrees in Theology. His dissertation, "The Renewing of the Holy Spirit," became the first of his writings to be published.