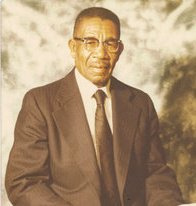 Elder John Henry Grier
Pentecostal Assemblies of the World
1901 ~ 1985
Elder John H. Grier, son of Meshack and Alice Towns Grier, was born January 17, 1901 in Smithville, Georiga. He came to Indianapolis, Indiana at an early age and embarked on a very rewarding life. As a young man he turned his life over to Jesus Christ and was baptized with the Holy Ghost on September 10, 1919. He was called to the ministry and served as an Assistant Pastor of Christ Temple Apostolic Faith Assembly for twelve years. He later served as Pastor of Bethel Tabernacle Apostolic Church. Gifted with the ability to bring out the best in young preachers. He was instrumental in the development of many ministers who later became pastors themselves.
Under his pastorate, Bethel Tabernacle experienced great spirit and financial growth. His many accomplishments included building of a new church ediface. In 1967 Elder Grier founded Antioch Apostolic Church and served as Pastor there until his death.
John was united in Holy Matriony to Amanda Mozelle Owens in May of 1921 and to this union was blwsses with the birth of eleven children. Mrs. Amanda Grier preceded Elder Grier in death in February of 1952. He later married Patrica Milton and to this union three children were born.
Elder J.H. Grier was a most loving and devoted father, grandparent and church leader who lived to be of service to others. He endured himself to many, many people and truly was a friend to one and all.
A member of the Pentecostal Assemblies of the World for over fifty years, Elder Grier was present at the initial meeting for the inception of this organization. He was also a member of the Apostolic Bible Students Association. Widely known and respected as a Bible scholar and teacher, he was able to preach and teach dramatically and pictorially the Word of the Lord.
Elder Grier was a master plasterer, a trade he practiced and became most proficient in for over sixty years. He was also a member of the Operative Plasterers and Cement Masons Intyernational Association, Local #46.
Elder John Henry Grier departed this earthly life on January 10, 1985 at the age of eighty-three years, eleven months and twenty-four days. Audio Recordings of Elder John Grier are located in our Audio Library.