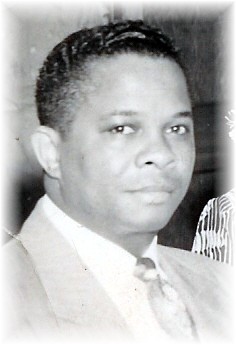 Bishop William Crossley
Pentecostal Assemblies of the World
1908 ~ 1981
Bishop William Crossley was born in Eufala, Alabama, on August 9, 1908, the third of four children parented by William, Sr., and Mamie Snead Crossley. While still a teenager he was baptized in Jesus' Name and received the Holy Ghost at Greater Bethlehem Temple, in Detroit, Michigan, under the pastorate of the late Bishop Samuel N. Hancock. He was united in matrimony to Emma Hughley on December 22, 1928, and was called to the ministry three months later.
after serving in his home church and evangelizing throughout the area, he accepted his first pastorate in the year 1934, when he was called to Richmond, Indiana. He became pastor of Emmanuel Temple, Buffalo, New York, on September 9, 1939, and some three years later dedicated his first church home at 603 Clinton Street in December, 1942. The congregation, under his leadership, purchased property at 361 N. Oak Street in the year 1953. It was in December, 1967, that the parish moved to its new location, and at that time became the Greater Emmanuel Temple.
Appointed as District Elder of the Pentecostal Assemblies of the World in 1940, and being elected to the Executive Board as a Director in 1950, Bishop Crossley received his elevation to the Bishopric in August, 1959. He was a member of the Northern District Council for 30 years and served as its treasurer for 26 years. His first diocese after becoming a Bishop was the Pacific Northwest District Council and Alaska, where he served for 3 years. He organized and served the Western New York and Ontario Council for 15 years, his diocese later being enlarged to include the entire State of New york and Eastern Canada, now the 1st Episcopal District of the P.A.W. He held this post until his demise.
Bishop Crossley was the directing Bishop of the National Usher Board, as well as the Nurses guild, for a number of years, He continued to serve the nursing unit until his death.
Warm and benevolent in his nature, this man of God and his wife fell heir to a niece and three nephews in August, 1948, when their mother, who was his sister, demised. They became the children;s parents indeed. Their home was also opened to 9 other children who have comprised their family.
After a life filled with service unto his God, Bishop Crossley weakened in health, his strength declining until he succumbed to a heart attack on Sunday, May 10, 1981, at the age of 72 years, 9 months, and 1 day. He left to cherish a legacy of memories: his many friends within the household of the Pentecostal Assemblies of the World. Audio Recordings of Bishop William Crossley are available in our Audio Library.