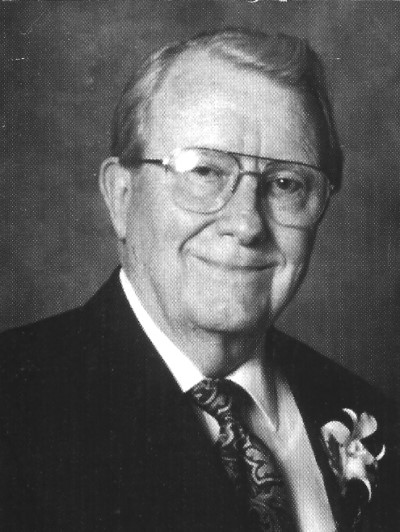 Rev. Stanley Warren Chambers
United Pentecostal Church International
1915 ~ 2004
Reverend Stanley Chambers was born in 1915 in the State of Ohio. He was 6'2" tall, was dignified, had a vibrant voice, and loved people, but was a bit shy in the social arena. He found God at the Apostolic Gospel Church in Columbus, Ohio at the age of (15). His pastor and mentor was Brother W.T. Witherspoon, and his youth pastor was Stuart G. Norris. Stanley received the Baptism of the Holy Ghost on February 6, 1930 during a revival preached by L.R. Ooton. Charles Pennington and Martin Whalen were praying with him when he was filled with theSpirit.
Brother Whalen gave Stanley his first job, working with him in his radiator repair shop. His training however, was in office work and his goal was to become an accountant. He accepted a job as a bookkeeper in Springfield, Ohio, but the dreadful depression caused him to lose his job. Afterward he moved to New York, and was hired as an office manager. Immediately he became part of the church in Manhattan that was pastored by Andrew D. Urshan. There Stanley developed a friendship with another young man that would also become a lifelong associate. The pastor's son, Nathaniel, would later become a minister of the Gospel. Over the years, their lives would interwine again and again.
Stanley would eventually meet a young girl named Catherine at a youth fellowship in Brooklyn. She was the daughter of immigrant Ukranian parents. Stanley was immediately attracted to her. They were married on September 7th, 1940. In 1943 Stanley was ordained, and asked to accept the pastorate of the church in Hazleton, Pennsylvania.
Brother Chambers belonged to the Pentecostal Assemblies of Jesus Christ. He was elected to be the secretary of the Eastern District. On September 24th, the PAJC and the PCI voted in favor of a merger. On September 25th, 1945 another resolution was presented. The two bodies then voted together and by a large majority, they accepted the resolution. The merger was official. Both groups voted to call the newly merged organization The United Pentecostal Church. Brother Chambers became the first general secretary of the United Pentecostal Church in 1955, a position he held until he was elected general superintendent. He also served as the superintendent of the Missouri District of the UPC and as President of Gateway College of Evangelism in St. Louis. In 2004 Brother Chambers went home to be with the Lord. Audio Recordings of Brother Stanley Chambers are available in our Audio Library.