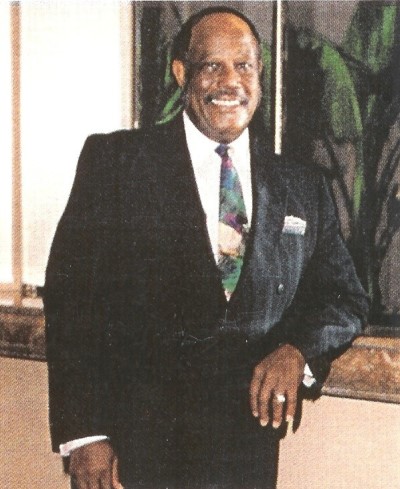 Bishop William Lee Burrel
Pentecostal Assemblies of the World
1927 ~ 1995
Bishop William L. Burrell was born on November 28, 1927 in Moorehead, Mississipi to the union of Rev. George Nathan and Rosie Burrel. William was destined and anointed under the mighty hand of God as a youngster to preach the gospel. He was called to the ministry at the age of (10) and preached his first sermon at the age of (12). During his early adult life, after hearing the message of the fuller truth, William was baptized in Jesus' Name and filled with the precious gift of the Holy Ghost.
On July 22, 1951, William was united in Holy Matrimony to Willi Belle Forte. Twelve children were born to this union. His ministry was elevated to an even higher spiritual level. Elder Burrel became a national evangelist for the Pentecostal Assemblies of the World from 1951 - 1954. He was called to Muskegon Heights, Michigan and became pastor of the Christ Temple apostolic Faith Church on June 2, 1954 where he pastored for 41 years. Bishop Burrel received an Associates in Arts degree, a bachelors and Masters, and a Ph.D. degree in Theology. He also received an Honorary Doctor of divinity from the Wayne Theological Seminary. He instilled a value and importance of education by being an example and encouraging his family and congrgation to pursue higher heights in the Lord and in academics.
His ministry was his life, and Christ Temple was his pride and joy. He never ceased to commune with the Lord under the anointing to study, pray, believe, and preach the gospel. He never swayed from the truth, nor was he swayed by his success, but remained humble. He was a preacher's friend, a caretaker of all prople, a stranger to no one, and a champion for soul winning. He possessed a deep love for the human rights of all people.
The "Bishop Man", fondly called by his children, was known to be a strong, wise and patient man; a man of principal and values. He possessed a sharinf spirit and did not require paybacks. He always bore a beautiful, wide and genuine smile. On September 1, 1995 Bishop Burrel finished his earthly course. Having run a good race and having fought a good fight. He served his generation by the will of God and then fell on sleep. Audio Recordings of Bishoip Burrell are available in our Audio Library.